Get your Naughti Gras X tickets here!  Tickets are available at this link:
https://tickets.completeticketsolutions.com/KAF/Online/default.asp
Dates: Friday, February 17th and Saturday, February 18th
Time: 7:00-1:00am
Ages:  18 and up!
Admission: 30.00 for a single night ticket, 50.00 for a two night pass and 75.00 for a VIP pass.
Food will be available in the Cafe. (Light fare)
Naughti Gras is around the corner and you don't want to miss out on the Tenth anniversary of St. Louis's one and only Erotic Art and Entertainment Event!
Over one hundred local and regional artists will exhibit their talents and erotic imaginations! Prepare yourself to revel in the simple pleasures of the human form and its interpretations expressed through all mediums of art.  We will also have on hand vendors who will be selling items to spice up your love your life!
As we approach this annual titillating event we will begin to highlight the live entertainment scheduled to appear.  Experience exciting live performances throughout the event spaces. Each night will showcase unique burlesque and pole dancing, erotic skits.  The entertainment is ongoing, all weekend long!
The Darrells, Our Naughti Gras House Band, is back again to rock the night away!  Loved throughout St. Louis, the Darrells hook the crowd and keep them dancing!
And on the Erotic Stage…
Naughti Gras Weekend once again will be lead by Sassy Mimi Le Uke! Mimi is St. Louis' Sailor Mouthed Sweetheart with her dirty ukulele in tow. A lifetime performer, Mimi got her start in the world of vaudeville as a comedic burlesque dancer with the St. Louis Alley Cat revue in 2006. She's been chewing the scenery ever since with her quirky comedic brand! In recent times, this naughty nightingale picked up the ukulele, bringing her brand of filth and funny to life through song. Her dirty dirges and bawdy ballads make audiences giggle and blush with delight.
Our good friend, Ami Amore and her sexy snake is back again! Ami is the head of Exotic Rhythms Belly dance and is a versatile, charismatic performer from St. Louis. She's been performing since 2002 and is widely known in the St. Louis region and beyond for her fusion belly dance stylings and snake dancing.
Always a crowd favorite, Michelle Mynx first gained recognition as half of the acclaimed acrobatic pole dancing burlesque duo, Gravity Plays Favorites with her partner Katrina Dohl. This sensational duo performed both nationally and internationally for over a decade covering many genres.  A pioneer of the Pole World, Michelle continues to perform her signature style of Polesque!  Come celebrate her powerful sexuality!
Headlining Naughti Gras X, a Vixen and a Clown!
New York City's Twisted Beauty, Dangrrr Doll is a multi-award winning performance artist known for her stunning costumes and unique interpretation of burlesque. Hailed as "high concept" and "defiantly weird" by Burlesque Beat, Dangrrr brings classic beauty combined with pop culture savvy and a dose of heavy metal to the stage. This globetrotting bombshell is the brains behind the touring nerdlesque show Comic Con Vixens. Dangrrr was listed in the Top 50 burlesque industry figures of 2014 and 2015.
Performing since 2005, Annie is a sultry siren, a comedic clown, and an ecdysiast innovator. Annie's 'Clowngasm' act, in particular, has been solicited for festivals and events across the country.  She thrives on collaborating with people that she loves and admires, which is why she is so excited for to be a part of Naughti Gras 2017!
"Annie Cherry's "Clowngasm" performance was side splitting entertainment that left so little to the imagination. From vagina flowers to yellow haired armpits, she was decked in classic clown from head to toe. (Ending in) an ejaculation of celebratory confetti. I died. It was magnificent." -Tifa Tittlywinks
Also scheduled to appear:
Vivacious Miss Audacious, the Whirlwind with the Crimson Grin, has had her hands and hips in a myriad of burlesque arts and entertainment ventures since 2005. She is the producer of Luxotica Lounge Cabaret, Shimmy Shack Burlesque and Dr. Sketchy's Anti-Art School Grand Rapids. Miss Audacious has performed across three continents, showcasing her unique brand of hooplesque, chair acrobatics and striptease all while flashing her mega-watt smile.
Margaret Wilson aka "Meg*a*Legs began stilting in St. Louis in the summer of 2009.  She has since learned from stilt artists all over the world and developed her own aerial stilt repertoire.  She is also an accomplished aerialist and costume maker, who can be seen stomping and dangling above the crowds in fashions of her own creation at various shows and events
Hell bent on creating a repertoire that sparked conversations regarding notions of gender, sexual prowess, and race, Jenn Freeman made her debut as burlesque artist Po'Chop in 2010. With over a decade of dance training including studying at Columbia College Chicago, Po'Chop uses elements of dance, storytelling, and striptease to create performances that are described by Chicago critics as "…the most provocative symbol of might onstage…It was as if Po'Chop had captured lightning in a bottle and the bottle was herself." Since Po's debut she has seared across many US stages. Po'Chop was selected as the recipient of the Chances Dances Mark Aguhar Memorial Grant in 2015 and was recently chosen to participate in the 2016 RDDI Chicago Dance Lab.  Needless to say, Po'Chop is the meat so, sweet even vegetarians want to take a bite!
Internationally renowned for her grace and beauty, TAMmi PAXton hails from Brooklyn, France. She has won several modeling awards including, but not limited to: Miss Truck-Stop Glory Hole 2009, and Miss Hot Garbage 2015.
Zi will work his Magic!
Rydyr is a drag entertainer based out of St. Louis, MO, and has been captivating and confusing audiences for over 10 years. He was voted STLs favorite drag king in 2015 and 2016 and during his decade has held titles at the local, regional and national level including being the very first St. Louis King of Pride, Missouri King Entertainer of the Year, and Mr. International Inc. MI. He can be seen in shows through out the St. Louis metro area and is a member of the Kiss & Tells—a character and story driven burlesque theater troupe.  Rydyr has travelled and performed nationally, and currently hosts and produces his own monthly shows and pop up parties.
SinDee Hoo Hoo is a classically trained dancer with experience in ballet, pointe, jazz and tap. She bourre'd herself onto the St. Louis burlesque scene in 2011 and hit the stage with grand jetes. Through her experience she has found her happy place through being a wild weirdo in St. Louis and beyond. She shares her passion for pussy… cats and fuckery through artistic expression. She is the Harlot of Hooville that brings Fuckery Catawampusly out of the Glitterbox.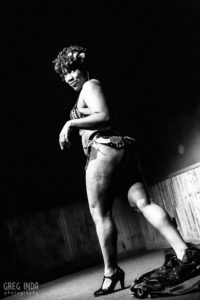 This alluring former Ohioan got her start as a member of a local French Can-Can Troupe! She entered the Chicago burlesque scene after packing her bags on a whim and embarking on a perilous journey…through Indiana. Josephine Shaker can be seen in a variety of venues across Chicago and the Midwest. She's traveled to Indianapolis, IN, St. Louis, MO, Nashville, TN for Jeezy's Juke Joint as well as being a member of the executive board.  The Fun-size Flirt!
Minnie is St. Louis' own pint-sized pinup!  She graduated from Van Ella Studios three years ago and has made appearances on several St. Louis stages since then.  She is a member of the Bon Bons Burlesque Troupe and has performed with them at the Beggar's Carnival, Spectaculaire,  Show Me Burlesque Festival, Kansas City Burlesque Festival, Oklahoma City Burlesque Festival, and even last year's Naughti Gras.  From classic burlesque to more modern styles, this itty-bitty bombshell loves to shimmy and shake 'til her clothes fall off – it's Minnie Moderne!
BiBi is a local solo performer who also runs with a local bad ass crew called The Bon Bons, a troupe created by Lola Van Ella. She's been strutting her stuff all over St. Louis for 6 years as well as taking it out of town throwing it around for all to see! She blends her sultry classic style with an urban in your face bang!With a devilish smile and a wink of an eye, she'll leave you squirming in your seat wishing for more.
Sailem is a burlesque dancer from St. Louis, Missouri. She debuted in January 2016 as a graduated student from Van Ella Studios. In only a year she has already made several accomplishments such as performing in The Roux: A spicy brown burlesque festival in New Orleans, The Big Gay Soiree in St.Louis, Jeezy's Juke Joint: A black burly-Q revue in Chicago, is one of the newest members of The Bon-Bons,  and so much more to come! This fireball is a force to be reckoned with…  she's especially spirited, since she's the one to put the BOO in booty!
"Who's hungry for Hot Lunch? Hailing from Chicago, Illinois,  Hot Lunch is a member of the award-winning burlesque troupe Vaudezilla.  Hot Lunch has performed in Show Me, Windy City, and Wisconsin Butlesque Festivals and is the 2015 Shimmy Showdown: Windy City champion. Presenting the hardest working FUPA in show business, Hot Lunch!"
Anna May is an instructor of pole dance at The Brass Ring Chicago and the founder and producer of Chicago's premier monthly pole dance show, The Wild Side – A Badass Pole Show. She travels all around the Midwest sharing her love of pole dance as a performer and teacher. Tonight she's bringing her favorite signature act to the stage, and she's ready to crack the whip.
Rose Whip first burst onto the performance scene in June of 2014 as an amateur and fireball in the gay clubs in The Grove of Saint Louis. Rose made her official debut out of Lola Van Ella Studios in 2015 and into the St. Louis burlesque scene. In 2016, Rose became one of the newest members of Saint Louis' own troupe, The Bon-Bons, adding something sharp and tart to the already beautiful flavors. She also debuted as a solo performer at the Kansas City Burlesque Festival, Jeezy's Juke Joint, and at The Roux: A Spicy Brown Burlesque festival in New Orleans. Rose's master plan is to continue to challenge the status quo by making queer and brown performers more visible, one stage and one performance at a time.
Melissa is the bad ass owner of The Brass Ring in Chicago. She believes that pole is good for the soul and recommends it to anyone who feels they need a healthy outlet to express themselves.
Scarlett Sinferno, "the five-alarm fire charmer," is an incendiary presence in the midwest. She was the founder of Venus in Flames, the midwest's all-female fire performance troupe and a cast member of Kansas City's Burlesque Downtown Underground. A St. Louis native, she has lit of the stages of Circus Flora, The Randy Dandies, and Beggar's Carnivale.
Steele Starling has introduced women and men to pole dance at the Michelle Mynx Academy of Pole Dance for the last 6 years and performs aerial pole, rope and chains across the country. His favorite shows included the Hubba Hubba Revue and Red Hots Burlesque in San Francisco as a featured performer, the Stage Door Johnnie's show, the Americana, the Windy City, Fierce Queer and the Show Me Burlesque Festivals, including as part of the Beggar's Carnival. This spring he will perform
Greta Garter has been bumping and grinding for the last 12 years. She has been ushering in a new generation of girls at Van Ella Studios, St. Louis' Burlesque and dance school. She is also a pin up, hair stylist, and makeup artist. She creates shiny costumes for the masses under the guise of Garb by Greta Tassel twirling her way on to the Burlesque Top 50 Performers list, @21st Century Burlesque.com ,for 3 of the past 6 years. She will be forever known as the girl with the garters that never come off.
Crazy XXX Girlfriend rocks your tits off with high energy, in your face ferocity….currently features Tracy Swigert on guitar and vocals, Kelsey Liesen on drums and guest bassist Neil Volner of SlushWave. They hail from the bowels of seedy South City St Louis since 2014 and are coming for your soul!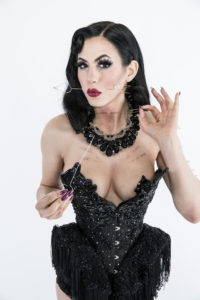 Sally Marvel is Chicago's "Pain Proof Woman"! She embraces that which is bizarre, dark, and sensual, combining the beautiful and the visceral. Sally specializes in sword swallowing, human pincushion, and fire eating, among other acts.